What is a PNG File?
PNG stands for "Portable Graphics Format". It is the most frequently used uncompressed raster image format on the internet. This lossless data compression format was created to replace the Graphics Interchange Format (GIF). PNG file format is an open format with no copyright limitations. Like GIF images, PNG also have the ability to display transparent backgrounds. In addition to that, PNG files are capable of containing 24bit RGB color palettes and greyscale images. Basically, this image format was designed to transfer images on the internet but with PaintShop Pro, PNG files can be applied with lots of editing effects.
How to Open a PNG File?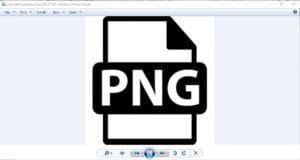 The default photo viewer program in Windows is often used to open PNG files because it's included as part of a standard Windows installation, but there are many other ways to view one.
All web browsers (like Chrome, Firefox, Internet Explorer, etc.) will automatically view PNG files that you open from the internet, which means you don't have to download every PNG file you want to look at online. You can also use the web browser to open PNG files from your computer, by using the Ctrl+O keyboard combination to browse for the file.
Tip: Most browsers also support drag-and-drop, so you might be able to just drag the PNG file into the browser to open it.
There are also several standalone file openers, graphic tools, and services that open PNG files. A few popular ones include XnView, IrfanView, FastStone Image Viewer, Google Drive and gThumb.
Considering the number of programs that open PNG files, and that you very likely have at least two installed right now, there's a very real chance that the one that's set to open them by default (i.e. when you double-click or double-tap on one) isn't the one you'd like to use.
Open PNG files in Windows
Compatible with:
windows 10, windows 9, windows 8